Description
Ilse Jacobsen Women's Tulip Slip-on Platform Shoes: Elevate Your Style Sustainably
Step Up in Eco-Friendly Fashion with a Nordic Touch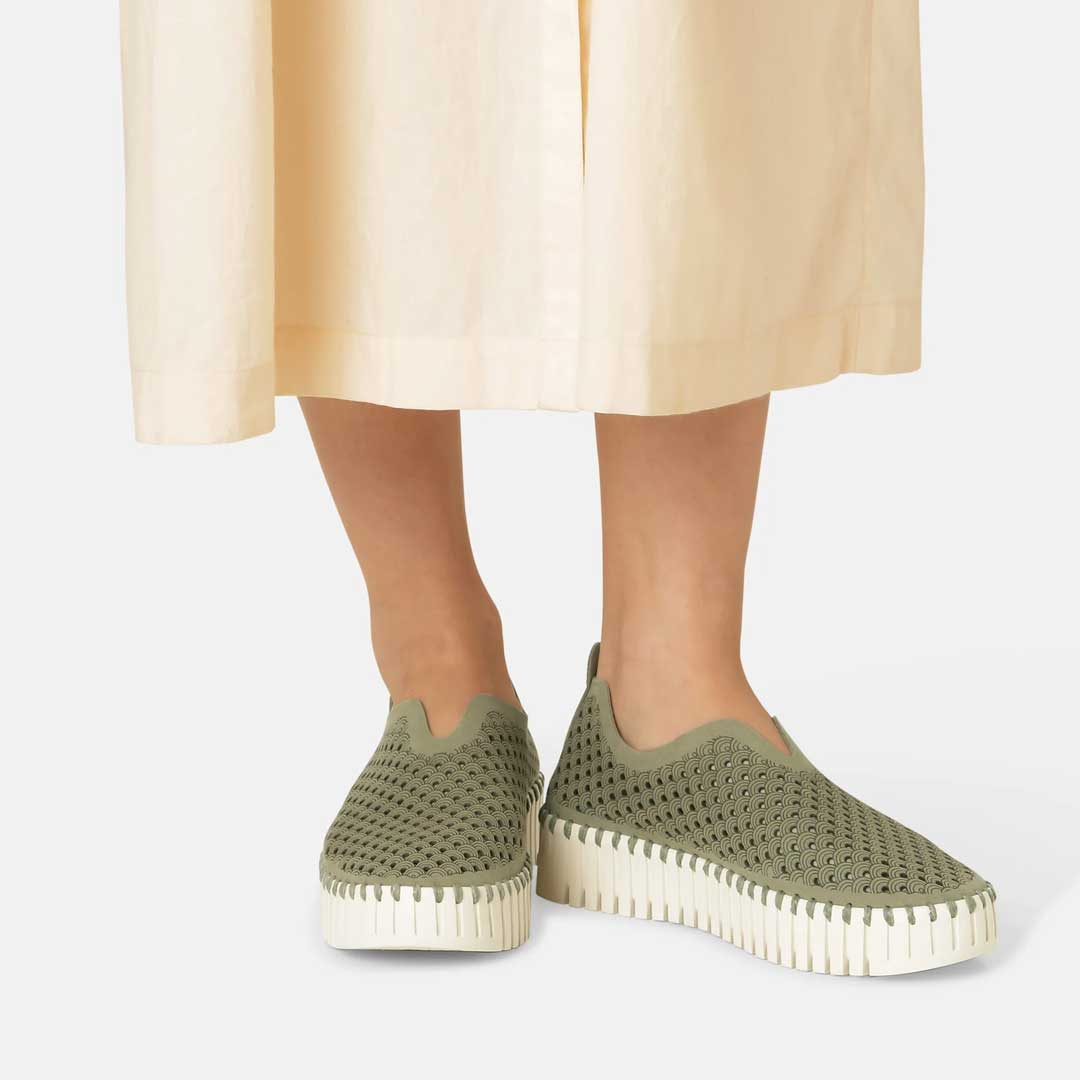 Elevated Style Meets Environmental Responsibility
The Ilse Jacobsen Women's Tulip Slip-on Platform Shoes take sustainable fashion to new heights. These shoes blend the original Tulip's charm with an elevated twist. The upper, crafted from recycled microfiber and adorned with the distinctive Tulip laser-cut pattern, pairs seamlessly with the iconic Tulip outsole, comprised of 75% natural and 25% recycled rubber, all stitched together without the use of glue.
Inspired by Nordic Tradition
Drawing inspiration from the Nordic landscape and lifestyle, these platform shoes reflect the brand's commitment to high-quality, functional rainwear. This ethos translates into footwear designed for enjoying the outdoors, no matter the weather, while adding a touch of Nordic elegance to your look.
Uncompromising Comfort and Support
Inside, the pig suede-lined insole provides unparalleled comfort, with extra padding and support to make every step a joy, whether in urban jungles or on nature trails.
Vibrant Choices to Match Your Personal Style
Choose from a range of color options to find the perfect match for your unique style. Whether you're drawn to understated shades or bold hues, these platform shoes offer a fashionable choice for any wardrobe.
Key Features & Benefits
– Upper: Recycled microfiber with the signature Tulip laser-cut design.
– Outsole: 75% natural, 25% recycled rubber, meticulously stitched.
– Insole: Comfort-enhancing pig suede lining.
– Environmental Commitment: Eco-friendly materials and production.
– Style Options: A variety of colors to suit diverse preferences.
– Design Influence: Nordic-inspired for a blend of functionality and aesthetics.
A Testament to Eco-Chic Fashion
– Recycled Microfiber Uppers for a lighter environmental footprint.
– Elevated Tulip Outsole combining natural and recycled materials.
– Glue-Free Construction for a greener manufacturing process.
– Comfortable Pig Suede-Lined Insole, perfect for prolonged wear.
– Wide Range of Colors to cater to every fashion sensibility.
The Ilse Jacobsen Women's Tulip Slip-on Platform Shoes are not merely a fashionable choice but a statement in sustainable living. Perfect for the eco-conscious and style-minded individual, these shoes offer a unique combination of comfort, durability, and minimal environmental impact. Embrace the essence of Scandinavian design and responsible fashion with every elevated step.